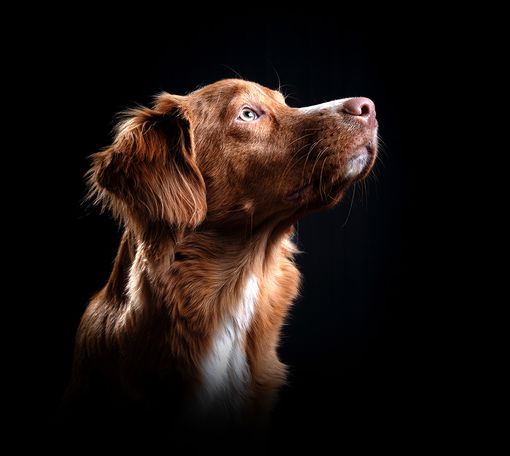 Products for dogs
Mineraler & Vitaminer
Dagligt tillskott av vitaminer och mineraler är en grundförutsättning för en välmående och frisk hund. Vitaminer och mineraler är avgörande för det mesta som händer i kroppen, trots att de behövs i små mängder varje dag har de en avgörande roll för hälsan.

Läs Mer
Vitaminer påverkar bland annat hundens immunförsvar, muskulaturens funktion och pälsens kvalitet. Mineraler påverkar flera av kroppens viktiga funktioner så som de olika organens funktion, skelettets utveckling och blodets förmåga att transportera syre runt om i kroppen. Vitaminer och mineraler bör ges i rätt förhållande till varandra och de bör inte heller överdoseras.

Muscle & Joints
Med rätt tillskott kan du hjälpa din hund till en bättre led- och muskelhälsa.
Läs Mer
Ledproblematik och förslitningsskador så som artros, ledinflammation och osteochondros är vanligt förekommande hos hundar. Hundens leder och muskler behöver ständigt underhållas för att undvika och förebygga förslitningar och skador. Detta görs bäst genom att kombinera välanpassade tillskott med utvärtes produkter så som liniment och kylgel. Att ta hand om hundens muskler och leder är lika viktigt för den aktiva hunden som för den äldre individen.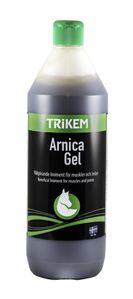 Arnica Gel
Mild, natural Arnica
Mild, natural Arnica that's based on extract from Arnica Montana or mountain arnica. Arnica is a well proven product that traditionally is used to increase blood flow to muscles and tissue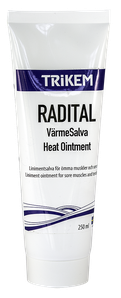 Radital Heat Ointment
Beneficial warmth for sore muscles and tendons
RADITAL Värmesalva is a warming liniment ointment with a well balanced blend of essential- and warming oils. Long acting and beneficial for sore muscles and tendons
Mage & Tarm
An unbalance in the dog's digestive tract can be caused by the dog eating something inappropriate, changing of food or a change in the dog's environment. A dog with loose stools you can advantageously give a pre- or probiotic supplement to support the intestinal flora.
Läs Mer
A stable intestinal flora and a well functioning stomach are crucial for optimal nutrient uptake and a healthy dog. Pre- and probiotics contribute to a balanced intestinal flora, improved digestion, optimized nutrient uptake and a stable pH value that counteracts the development of toxic bacteria.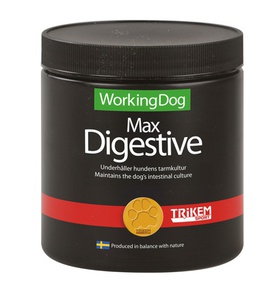 Working Dog
Max Digestive
For dogs with a upset or sensitive stomach
Max Digestive stabilizes the dog's gastrointestinal flora. Give to the dog who easily gets upset in the stomach or suffers from loose stools.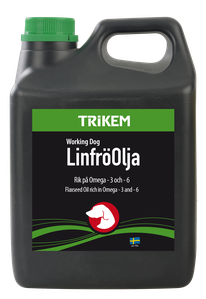 Working Dog
Flaxseed Oil
Natural source to omega 3 och omega 6
Cold pressed Flaxseed Oil that are gentle to the stomach and known for it´s anti inflammatory properties. Flaxseed Oil are suitable for dogs with skin problems or in case of a sensitive stomach.
Temperament & Boost
Rätt balans av energi och fokus krävs för att hunden ska vara välmående och kunna prestera. En stressad, nervös eller ängslig hund, som har svårt att varva ner, kan lida av brist på viktiga mineraler och aminosyror.

Läs Mer
Serotonin är ett hormon som behövs för att återfå balans efter ett stresspåslag. Tryptofan, thiamin och magnesium är ämnen som krävs för den kroppsegna serotoninproduktionen. Brist på något av dessa ämnen kan resultera i en nervös, spänd eller ängslig hund.
Active dog's that aim to perform optimal requires right source of energy that the body can easily utilize. A properly composed oil that contains the right combinations of MCT and CLA gives extra energy and boost a the right time. Energy Booster is gentle on the body and an excellent choice for the active individual.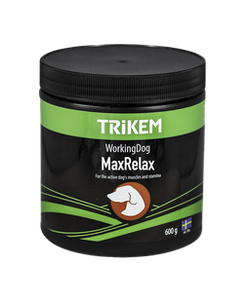 WorkingDog MaxRelax
For a balanced mind
MaxRelax contains Tryptophan from which the dog's body can form serotonin and melatonin. Dogs with low levels of serotonin may express a anxious, stressed and impulsive behavior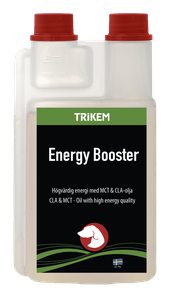 WorkingDog Energy Booster
Endurance and explosiveness for the high performing dog
A powerful energy booster with MCT oils that quickly provides the muscles with concentrated energy and increases their endurance. MCT oils are easily absorbed and quickly give the dog access to useful and easily accessible energy
Pälsvård & Utvärtesvård
När olyckan varit framme och din hund fått ett sår är det skönt att ha ett välfyllt djurapotek hemma.

Läs Mer
Trikem har produkter för sårrengöring och sårvård. För sprucken, torr hud eller för att skydda sår finns det ett flertal salvor att välja mellan.
Trikem has a wide range of dog shampoos and dog conditioners. WorkingDog shampoos are gentle on the dog's fur and skin, while they effectively cleanse, straighten and give shine. The balm products moisturize the coat and counteract tangles and wear.