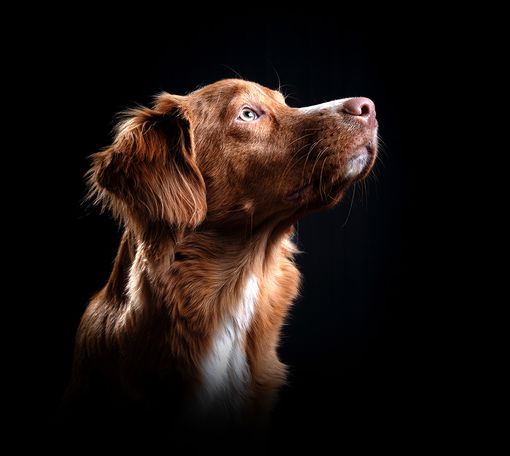 Hyaluron 365

Working Dog
Hyaluron 365
Working Dog

The optimal joint supplement for a more flexible dog
Hyaluron 365 is a compound of substances that all act for the dog's joint function and mobility. Hyaluronic acid is a body substance that is included in the dog's joint fluid and gives it its shock absorbing ability. The need to supply Hyaluronic acid is controlled by the physical work load and the age of the dog. With increasing age, the production of a number of body substances decreases, which contributes to stiff and worn joints in the older dog.
The working and active dog has an increased joint wear and may need a supplemental supplementation of hyaluronic acid to support the function of the joints and prevent unnecessary wear. Hyaluron 365 also contains MSM which can act as an antioxidant and suppress the amount of free radicals in the dog's muscles after physical exertion. MSM is also part of the process that increases the permeability of the cell wall, which facilitates the export of slag products, provides an efficient nutrient absorption while improving circulation and the capacity of oxygen uptake. Glucosamine promotes the formation and regeneration of cartilage. Chondroitin sulfate enhances the action of glucosamine and helps reduce the breakdown of the cartilage in the event of injury or increased load.
The ability of hyaluronic acid to increase the viscosity of the joint fluid helps to increase the joint's shock absorption and works in conjunction with MSM, Glucosamine and Chondroitin Sulfate to reduce joint wear and improve muscle function.
Usage
For dogs in preventive purposes or when the first signs of incipient stiffness appear.
To the older dog that shows rigidity.
For the hard working or active dog.
Dosage
5 ml per 10 kg bodyweight and day.
Min dose 5 ml per day.
Max dose 25 ml per day.
Storage & Shelf life
Dry, cool and well sealed. Sort as plastic.
24 months. See best before date.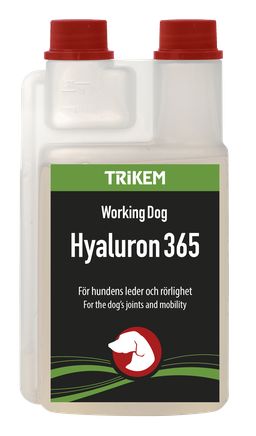 | | | |
| --- | --- | --- |
| Content | per 1000 g | per 10 ml |
| Glukosamin | 56000 mg | 600 mg |
| MSM | 92500 mg | 1000 mg |
| Chondroitinsulfat | 5000 mg | 54 mg |
| Hyaluronsyra | 1000 mg | 11 mg |
Composition
Water
Glycerin
Glucosamine sulphate- KCL
Chondroitin sulfat
Methyl Sulfonyl Methane (MSM)
Sodium hyaluronate
Analytical Constituents
Crude protein
Crude oil-fat
Crude fiber
Crude ash
Kalcium
Sodium
Phosphorous

1,84%
<0,1%
<0,5%
1,87%
100 mg/kg
760 mg/kg
<100 mg/kg
ART NR
1835050
1835100
1835300

EAN
7394244102563
7394244103034
7394244103041

SIZE
500 ml
1000 ml
3000 ml
FÖRP
6
6
2
Do you have questions about our products?
Please contact us and we will help you.